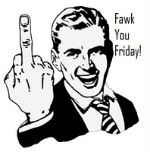 Yipeeeee. Fuck You Friday is here! Link up with
Boobies
and fekkin' vent until yer wee hearts content. Hey, that rhymed!
F-F-Fuck you to the the Fucktard that stole my idea to do a vlog competition. You know who you are, Plonker. All I can say is revenge is schweet! Oh yeah, d
on't forget to enter MY VLOG COMPETITION!
Fuck You to the Bastid who took a step back in the ATM queue and squished my fucking pinkie toe with his Built-In-Waterskis. Its still throbbing you arse!
Fuck You to the Winter Season that is quickly approaching. Oh how I hate you! Fuck off and come back next year.
And now the Celebratory drinks, Folks!
Yeah! Jello Shots for everyone!
Fat-free jello, of course, but loaded with expensive yummy vodkaness. I'm celebrating ...celebrating the fact that I went to gym every week day for the past three weeks and I've finally lost a wee bit of weight. 3kg to be exact (thats 6.6lbs).
Oh yeah....I'm on my way to skinny awesomeness, Fuckers! Still a whack-load to go but I'm on the right road to meeting my hip bones again. Hold thumbs for me that my will power last long enough to get through Easter without overdosing on Cadbury's Creme Eggs or any other such-like glucose goodies.
Now go enjoy some shoe shopping for that brilliant pair of killer bed-heels